Dental implants have become a popular choice for individuals who need to replace missing teeth. Increase in consumption is one of the prime reasons for the dental implant treatment to become affordable in a developing country like India.
This has not only helped the Indian consumers, but has also made India one of the prime destinations for people from developed countries like USA, ,UK, Canada, Australia and middle east for dental tourism.
Indiadens, one of the best dental clinics in India which follows all the international standards and protocols of dental implantology. The clinic offers a wide range of dental implant solutions, including single tooth implants, multiple tooth implants, and complex procedures like full mouth rehabilitation, zygomatic implants, bone/sinus grafting and many more.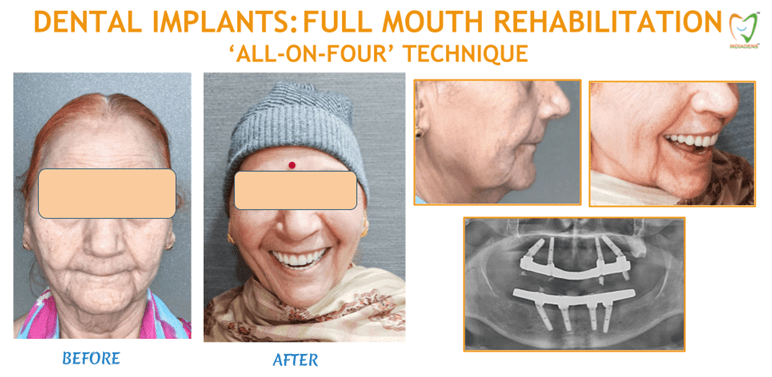 Experience is the key
Implant placement requires a high level of skill and expertise. It is a science of precision which comes from technical expertise and experience.
Dr Ujjwal Gulati, the head of Oral & Maxillofacial surgery at Indiadens is considered one of the best dental implantologist in India, practicing in Delhi NCR and has vast experience in the field of oral surgeries. He has treated and rehabilitated many national and international patients with dental implants with extremely promising results. He has special expertise in "all-on-four" / "all-on-six" techniques and zygomatic implantology for full jaw / full mouth implant rehabilitation.
What is the success rate of dental implant?
The success rate of dental implants is close to 100 percent, with many patients experiencing long-lasting results and improved oral health. However, it is important for individuals considering dental implants to choose a reputable clinic and experienced dentist to ensure the best possible outcome.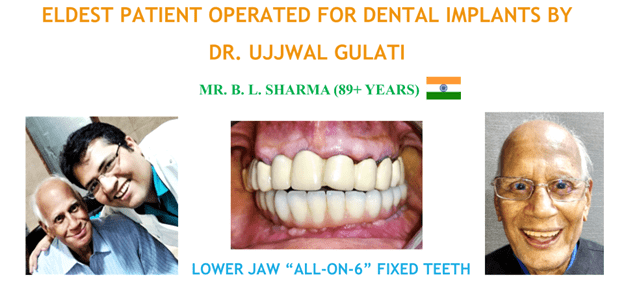 Indiadens is one of the best dental clinics and is also a referral center for complex or rejected cases. The oldest patient who was operated and successfully rehabilitated for dental implants by Dr Ujjwal Gulati was 89+ years old.
Dental Implants Cost
The cost of dental implants and treatment in India can vary depending on various factors such as the quality of the biomaterials used, company and make of dental implants, the type of teeth to be placed over implants, experience and reputation of the treating implantologist, and the complexity of the case.
On average , the cost of a single dental implant in India can range from INR 25000 to INR 50000.This cost includes the implant surgery, implant crown, and any additional procedures like bone grafting or sinus lift if required. If multiple implants are needed, the total dental implant cost can increase accordingly. The cost of a full mouth dental implants in Delhi-NCR, India can range from 2,00,000 to INR 4,00,000. It is important to note that these are just estimated costs and can vary significantly depending on the above mentioned factors. It is recommended to consult with a dental professional to get an accurate cost estimate based on your specific case.
The cost of dental implants at Indiadens starts from Rs 15,000/- (approx 200 USD) which is extremely reasonable as compared to dental implant cost in India. The cost of full-mouth dental implants starts from INR 1,20,000/- (approx 1600 USD) which is extremely reasonable compared to full mouth dental implant charges in India.
Indiadens, one of the best dental clinics in Delhi NCR, India offers highly skilled and experienced implantology team, minor OT equipped with ultramodern equipment including sedation facility and Dental Lasers, World-class biomaterials from internationally acclaimed companies like Straumann, Geistlich Pharma, Nobel Biocare, Novabone (MTF biologics), W&H, Biolase, Johnson & Johnson, Dentium, Osstem, etc to make sure that our patients receive the best treatment as per international standards with reasonable charges.